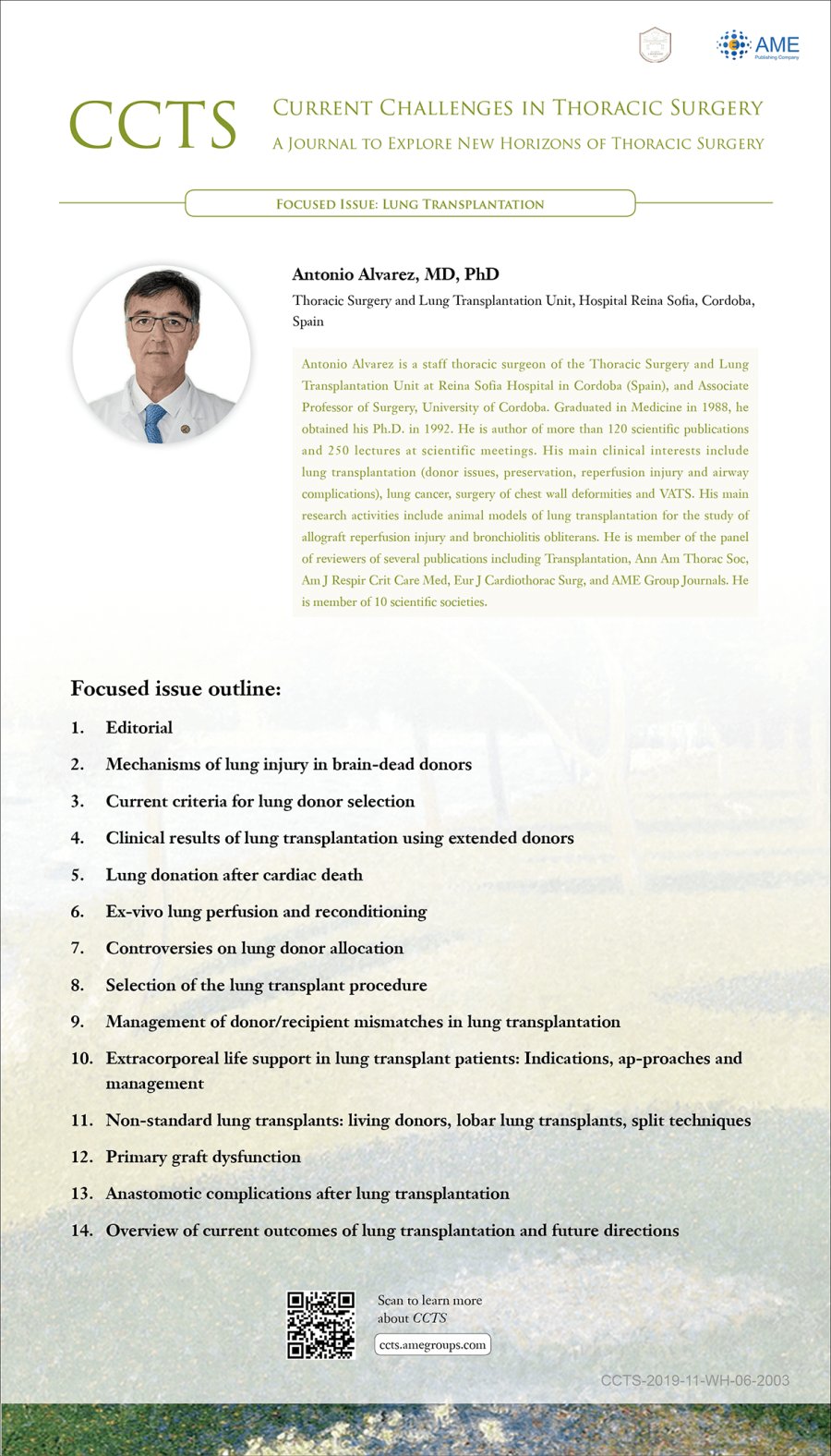 This Focused Issue on "Lung Transplantation" is edited by Dr. Antonio Alvarez, MD, PhD from Thoracic Surgery and Lung Transplantation Unit, Hospital Reina Sofia, Cordoba, Spain.
Antonio Alvarez is a staff thoracic surgeon of the Thoracic Surgery and Lung Transplantation Unit at Reina Sofia Hospital in Cordoba (Spain), and Associate Professor of Surgery, University of Cordoba. Graduated in Medicine in 1988, he obtained his Ph.D. in 1992. He is author of more than 120 scientific publications and 250 lectures at scientific meetings. His main clinical interests include lung transplantation (donor issues, preservation, reperfusion injury and airway complications), lung cancer, surgery of chest wall deformities and VATS. His main research activities include animal models of lung transplantation for the study of allograft reperfusion injury and bronchiolitis obliterans. He is member of the panel of reviewers of several publications including Transplantation, Ann Am Thorac Soc, Am J Respir Crit Care Med, Eur J Cardiothorac Surg, and AME Group Journals. He is member of 10 scientific societies.
Focused issue outline:
Editorial
Mechanisms of lung injury in brain-dead donors
Current criteria for lung donor selection
Clinical results of lung transplantation using extended donors
Lung donation after cardiac death
Ex-vivo lung perfusion and reconditioning
Controversies on lung donor allocation
Selection of the lung transplant procedure
Management of donor/recipient mismatches in lung transplantation
Extracorporeal life support in lung transplant patients: Indications, approaches and management
Non-standard lung transplants: living donors, lobar lung transplants, split techniques
Primary graft dysfunction
Anastomotic complications after lung transplantation
Overview of current outcomes of lung transplantation and future directions
Disclosure:
The series "Lung Transplantation" was commissioned by the editorial office, Current Challenges in Thoracic Surgery without any sponsorship or funding. Antonio Alvarez is serving as the unpaid Guest Editors for the series.