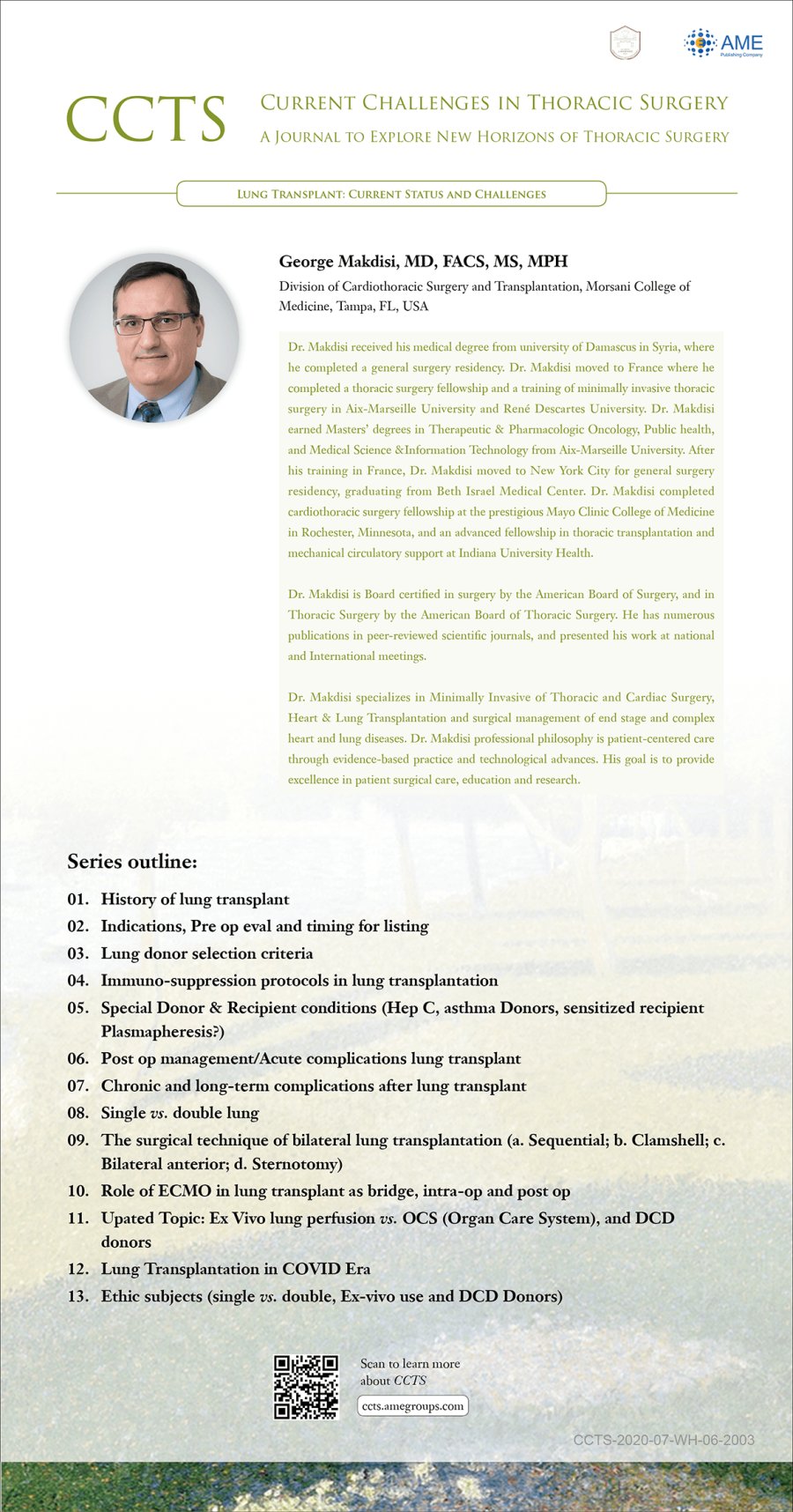 This series on "Lung Transplant: Current Status and Challenges" is edited by Dr. George Makdisi, Division of Cardiothoracic Surgery and Transplantation, Morsani College of Medicine, Tampa, FL, USA. This series will cover the most significant and challenging issues regarding lung transplant and include renowned experts from different medical centers in the US to share their knowledge and experience.
George Makdisi, MD, FACS, MS, MPH
Division of Cardiothoracic Surgery and Transplantation, Morsani College of Medicine, Tampa, FL, USA
Dr. Makdisi received his medical degree from university of Damascus in Syria, where he completed a general surgery residency. Dr. Makdisi moved to France where he completed a thoracic surgery fellowship and a training of minimally invasive thoracic surgery in Aix-Marseille University and René Descartes University. Dr. Makdisi earned Masters' degrees in Therapeutic & Pharmacologic Oncology, Public health, and Medical Science &Information Technology from Aix-Marseille University. After his training in France, Dr. Makdisi moved to New York City for general surgery residency, graduating from Beth Israel Medical Center. Dr. Makdisi completed cardiothoracic surgery fellowship at the prestigious Mayo Clinic College of Medicine in Rochester, Minnesota, and an advanced fellowship in thoracic transplantation and mechanical circulatory support at Indiana University Health.
Dr. Makdisi is Board certified in surgery by the American Board of Surgery, and in Thoracic Surgery by the American Board of Thoracic Surgery. He has numerous publications in peer-reviewed scientific journals, and presented his work at national and International meetings.
Dr. Makdisi specializes in Minimally Invasive of Thoracic and Cardiac Surgery, Heart & Lung Transplantation and surgical management of end stage and complex heart and lung diseases. Dr. Makdisi professional philosophy is patient-centered care through evidence-based practice and technological advances. His goal is to provide excellence in patient surgical care, education and research.
Series outline:
History of lung transplant
Indications, Pre op eval and timing for listing
Lung donor selection criteria
Immuno-suppression protocols in lung transplantation
Special Donor & Recipient conditions (Hep C, asthma Donors, sensitized recipient Plasmapheresis?)
Post op management/Acute complications lung transplant
Chronic and long-term complications after lung transplant
Single vs. double lung
The surgical technique of bilateral lung transplantation(a. Sequential; b. Clamshell; c. Bilateral anterior; d. Sternotomy)
Role of ECMO in lung transplant as bridge, intra-op and post op
Upated Topic: Ex Vivo lung perfusion Vs. OCS (Organ Care System), and DCD donors
Lung Transplantation in COVID Era
Ethic subjects (single Vs. double, Ex-vivo use and DCD Donors)
Disclosure:
The series "Lung Transplant: Current Status and Challenges" was commissioned by the editorial office, Current Challenges in Thoracic Surgery without any sponsorship or funding. George Makdisi is serving as the unpaid Guest Editor for the series.