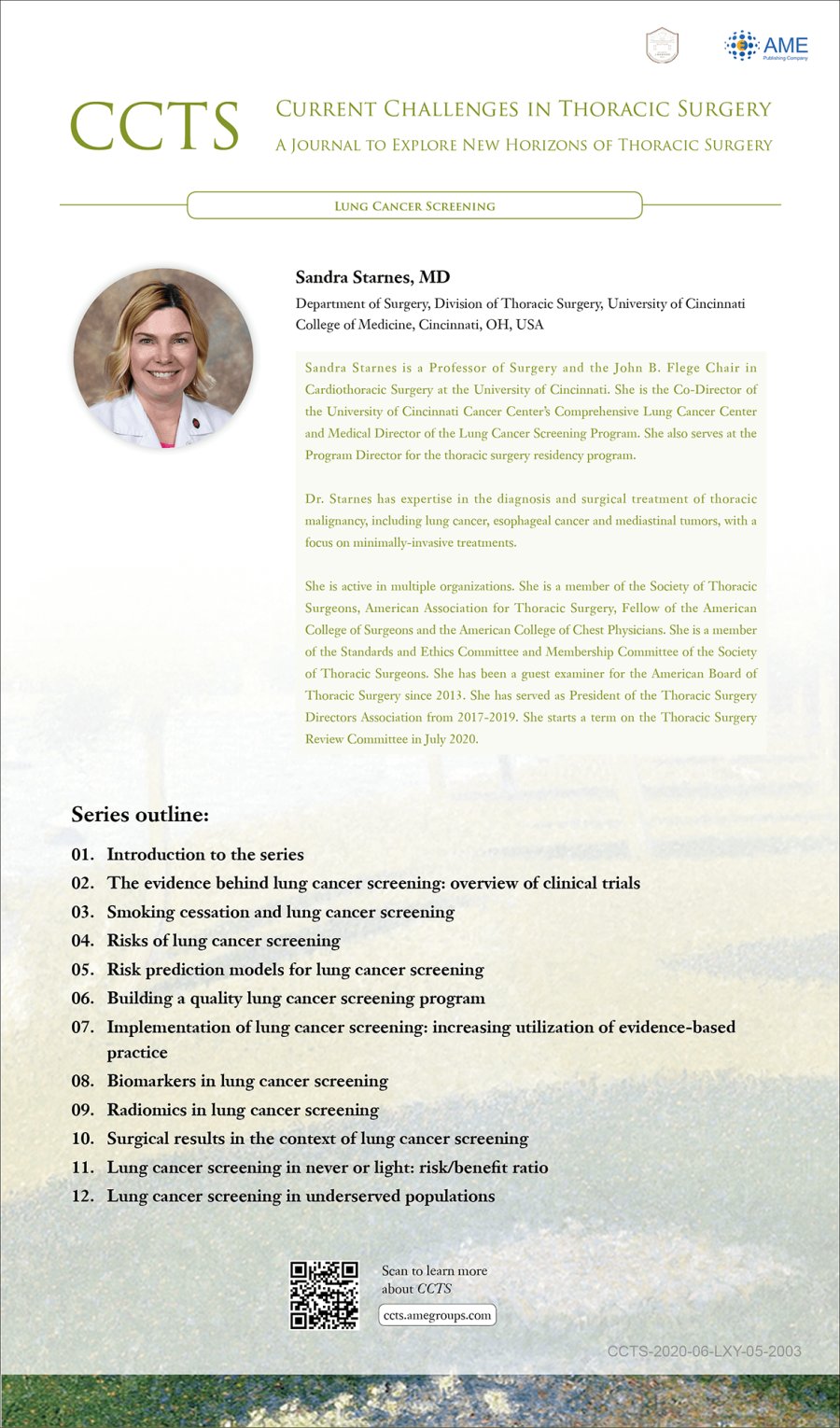 This series on "Lung Cancer Screening" is edited by Dr. Sandra Starnes, MD, Division of Thoracic Surgery, University of Cincinnati College of Medicine, Cincinnati, OH, USA. This series has systematically covered the most significant and challenging issues regarding lung cancer screening, e.g., the risks and prediction models, technologies and strategies, methods and procedures, as well as outcomes, etc. Besides, this series will include renowned experts from different medical centers in the US.
Sandra Starnes, MD
Department of Surgery, Division of Thoracic Surgery, University of Cincinnati College of Medicine, Cincinnati, OH, USA
Sandra Starnes is a Professor of Surgery and the John B. Flege Chair in Cardiothoracic Surgery at the University of Cincinnati. She is the Co-Director of the University of Cincinnati Cancer Center's Comprehensive Lung Cancer Center and Medical Director of the Lung Cancer Screening Program. She also serves at the Program Director for the thoracic surgery residency program.
Dr. Starnes has expertise in the diagnosis and surgical treatment of thoracic malignancy, including lung cancer, esophageal cancer and mediastinal tumors, with a focus on minimally-invasive treatments.
She is active in multiple organizations. She is a member of the Society of Thoracic Surgeons, American Association for Thoracic Surgery, Fellow of the American College of Surgeons and the American College of Chest Physicians. She is a member of the Standards and Ethics Committee and Membership Committee of the Society of Thoracic Surgeons. She has been a guest examiner for the American Board of Thoracic Surgery since 2013. She has served as President of the Thoracic Surgery Directors Association from 2017-2019. She starts a term on the Thoracic Surgery Review Committee in July 2020.
Series outline:
Introduction to the series
The evidence behind lung cancer screening: overview of clinical trials
Smoking cessation and lung cancer screening
Risks of lung cancer screening
Risk prediction models for lung cancer screening
Building a quality lung cancer screening program
Implementation of lung cancer screening: increasing utilization of evidence-based practice
Biomarkers in lung cancer screening
Radiomics in lung cancer screening
Surgical results in the context of lung cancer screening
Lung cancer screening in never or light: risk/benefit ratio
Lung cancer screening in underserved populations
Disclosure:
The series "Lung Cancer Screening" was commissioned by the editorial office, Current Challenges in Thoracic Surgery without any sponsorship or funding. Sandra Starnes is serving as the unpaid Guest Editor for the series.