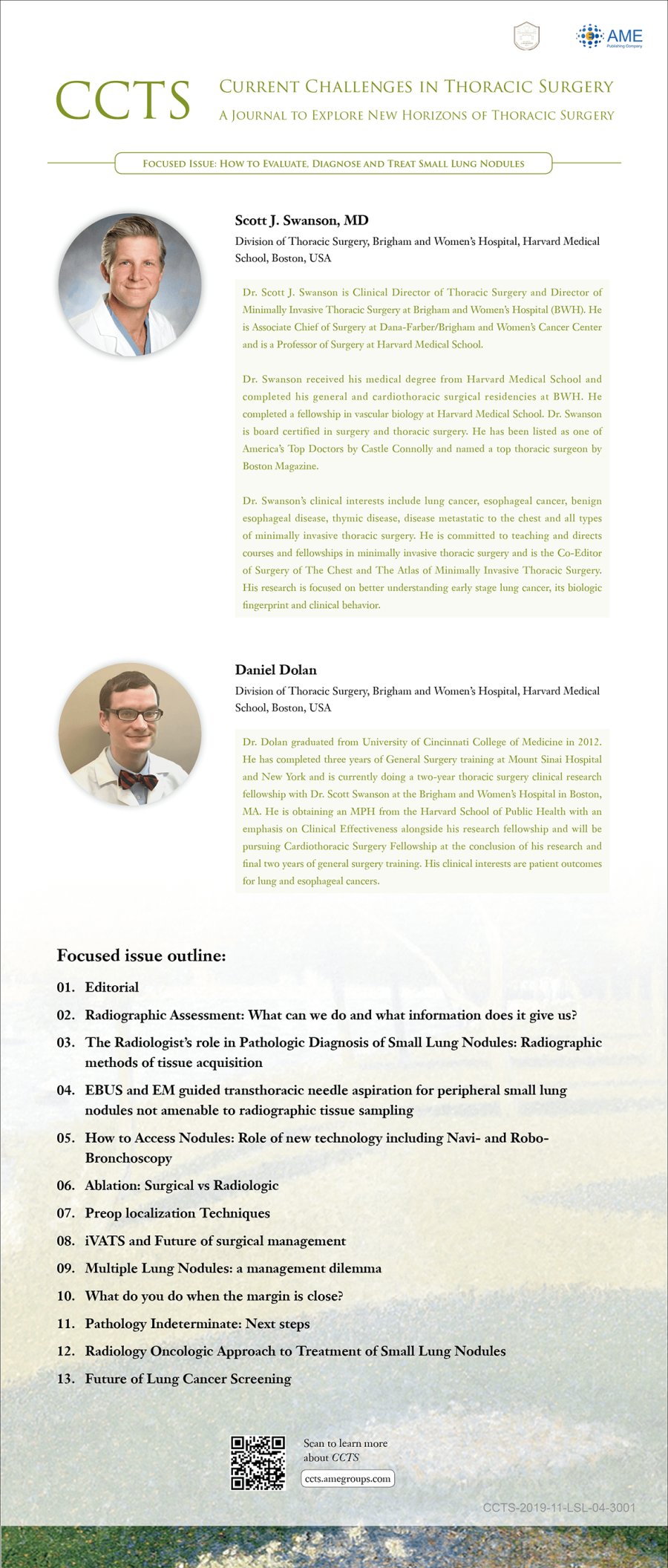 This Focused Issue on "How to Evaluate, Diagnose and Treat Small Lung Nodules" is edited by Drs. Scott J. Swanson and Daniel Dolan from Division of Thoracic Surgery, Brigham and Women's Hospital, Harvard Medical School, Boston, USA.
Dr. Scott J. Swanson is Clinical Director of Thoracic Surgery and Director of Minimally Invasive Thoracic Surgery at Brigham and Women's Hospital (BWH). He is Associate Chief of Surgery at Dana-Farber/Brigham and Women's Cancer Center and is a Professor of Surgery at Harvard Medical School.
Dr. Swanson received his medical degree from Harvard Medical School and completed his general and cardiothoracic surgical residencies at BWH. He completed a fellowship in vascular biology at Harvard Medical School. Dr. Swanson is board certified in surgery and thoracic surgery. He has been listed as one of America's Top Doctors by Castle Connolly and named a top thoracic surgeon by Boston Magazine.
Dr. Swanson's clinical interests include lung cancer, esophageal cancer, benign esophageal disease, thymic disease, disease metastatic to the chest and all types of minimally invasive thoracic surgery. He is committed to teaching and directs courses and fellowships in minimally invasive thoracic surgery and is the Co-Editor of Surgery of The Chest and The Atlas of Minimally Invasive Thoracic Surgery. His research is focused on better understanding early stage lung cancer, its biologic fingerprint and clinical behavior.
Dr. Dolan graduated from University of Cincinnati College of Medicine in 2012. He has completed three years of General Surgery training at Mount Sinai Hospital and New York and is currently doing a two-year thoracic surgery clinical research fellowship with Dr. Scott Swanson at the Brigham and Women's Hospital in Boston, MA. He is obtaining an MPH from the Harvard School of Public Health with an emphasis on Clinical Effectiveness alongside his research fellowship and will be pursuing Cardiothoracic Surgery Fellowship at the conclusion of his research and final two years of general surgery training. His clinical interests are patient outcomes for lung and esophageal cancers.
Focused issue outline:
Editorial
Radiographic Assessment: What can we do and what information does it give us?
The Radiologist's role in Pathologic Diagnosis of Small Lung Nodules: Radiographic methods of tissue acquisition
EBUS and EM guided transthoracic needle aspiration for peripheral small lung nodules not amenable to radiographic tissue sampling
How to Access Nodules: Role of new technology including Navi- and Robo-Bronchoscopy
Ablation: Surgical vs Radiologic
Preop localization Techniques
iVATS and Future of surgical management
Multiple Lung Nodules: a management dilemma
What do you do when the margin is close?
Pathology Indeterminate: Next steps
Radiology Oncologic Approach to Treatment of Small Lung Nodules
Future of Lung Cancer Screening