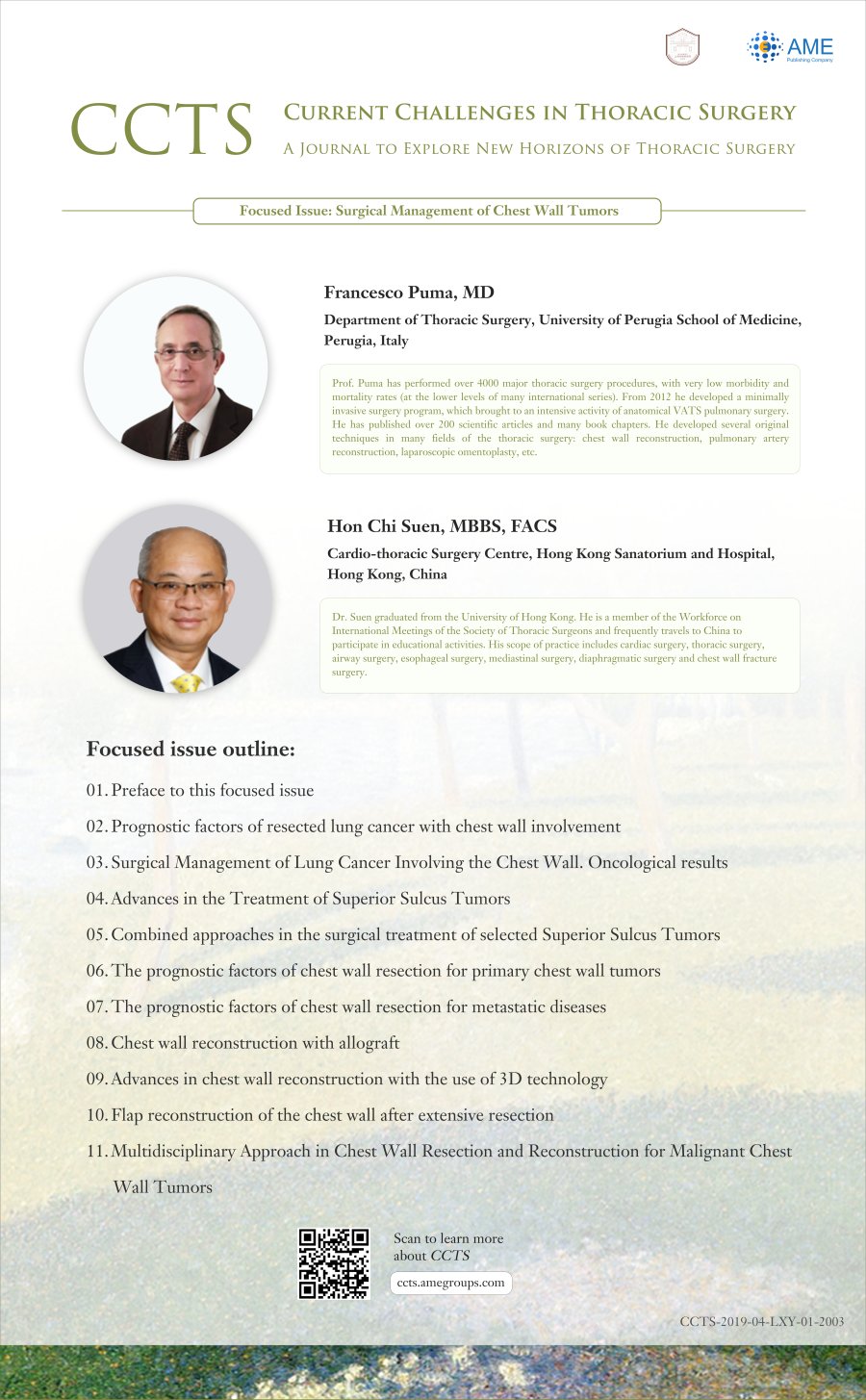 This focused issue on "Surgical Management of Chest Wall Tumors" is edited by Dr. Francesco Puma from Department of Thoracic Surgery, University of Perugia School of Medicine, Perugia, Italy; and Dr. Hon Chi Suen, from Cardio-thoracic Surgery Centre, Hong Kong Sanatorium and Hospital, Hong Kong, China
Francesco Puma, MD, has performed over 4000 major thoracic surgery procedures, with very low morbidity and mortality rates (at the lower levels of many international series). From 2012 he developed a minimally invasive surgery program, which brought to an intensive activity of anatomical VATS pulmonary surgery. He has published over 200 scientific articles and many book chapters. He developed several original techniques in many fields of the thoracic surgery: chest wall reconstruction, pulmonary artery reconstruction, laparoscopic omentoplasty, etc.
Hon Chi Suen, MBBS, FACS, graduated from the University of Hong Kong. He is a member of the Workforce on International Meetings of the Society of Thoracic Surgeons and frequently travels to China to participate in educational activities. His scope of practice includes cardiac surgery, thoracic surgery, airway surgery, esophageal surgery, mediastinal surgery, diaphragmatic surgery and chest wall fracture surgery.
Focused issue outline:
Preface to this focused issue

Prognostic factors of resected lung cancer with chest wall involvement

Surgical Management of Lung Cancer Involving the Chest Wall. Oncological results

Advances in the Treatment of Superior Sulcus Tumors

Combined approaches in the surgical treatment of selected Superior Sulcus Tumors

The prognostic factors of chest wall resection for primary chest wall tumors

The prognostic factors of chest wall resection for metastatic diseases

Chest wall reconstruction with allograft

Advances in chest wall reconstruction with the use of 3D technology

Flap reconstruction of the chest wall after extensive resection

Multidisciplinary Approach in Chest Wall Resection and Reconstruction for Malignant Chest Wall Tumors