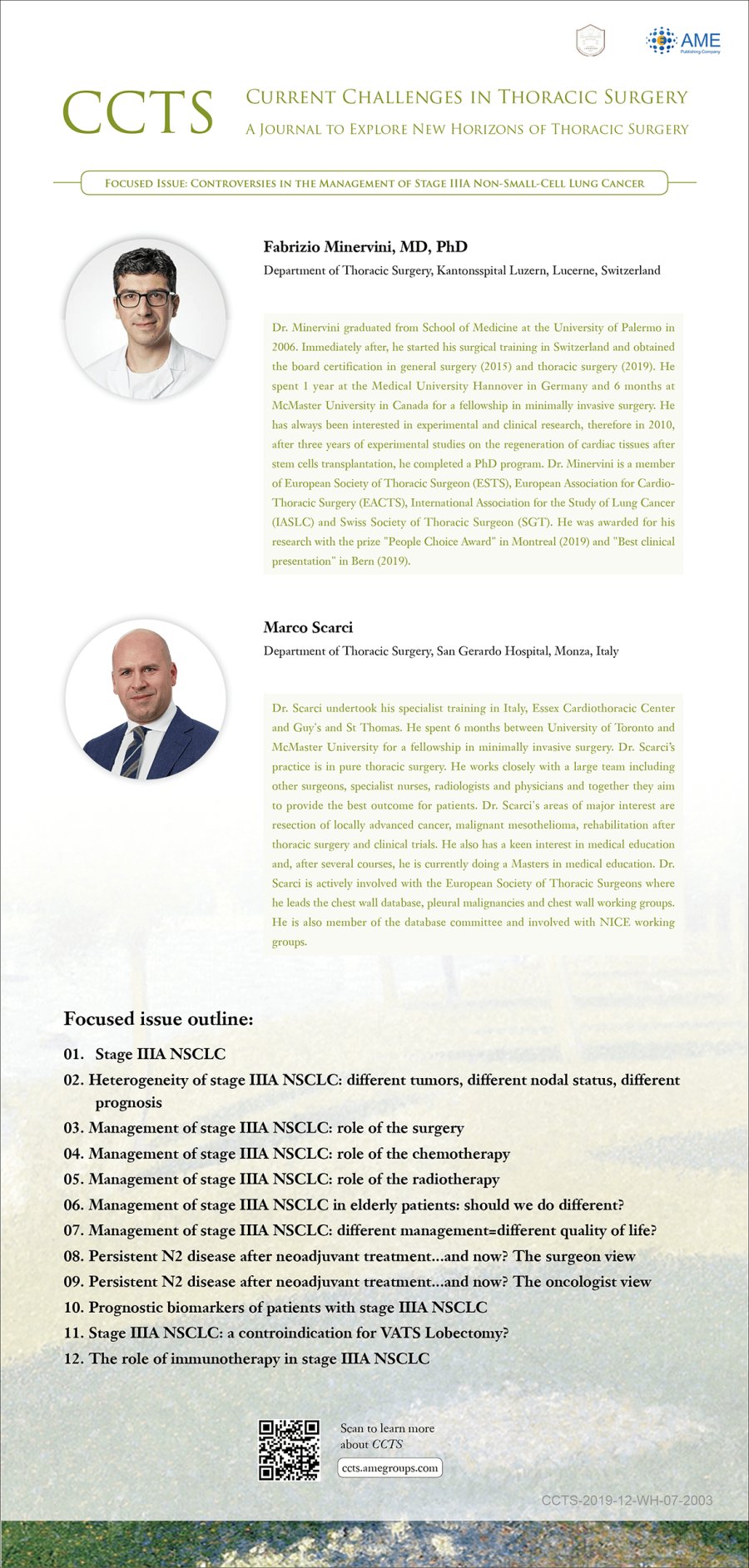 This focused issue on "Controversies in the Management of Stage IIIA Non-Small-Cell Lung Cancer" is edited by Dr. Fabrizio Minervini from Department of Thoracic Surgery, Kantonsspital Luzern, Lucerne, Switzerland; and Dr. Marco Scarci, from Department of Thoracic Surgery, San Gerardo Hospital, Monza, Italy.
Dr. Minervini graduated from School of Medicine at the University of Palermo in 2006. Immediately after, he started his surgical training in Switzerland and obtained the board certification in general surgery (2015) and thoracic surgery (2019). He spent 1 year at the Medical University Hannover in Germany and 6 months at McMaster University in Canada for a fellowship in minimally invasive surgery. He has always been interested in experimental and clinical research, therefore in 2010, after three years of experimental studies on the regeneration of cardiac tissues after stem cells transplantation, he completed a PhD program. Dr. Minervini is a member of European Society of Thoracic Surgeon (ESTS), European Association for Cardio-Thoracic Surgery (EACTS), International Association for the Study of Lung Cancer (IASLC) and Swiss Society of Thoracic Surgeon (SGT). He was awarded for his research with the prize "People Choice Award" in Montreal (2019) and "Best clinical presentation" in Bern (2019).
Dr. Scarci undertook his specialist training in Italy, Essex Cardiothoracic Center and Guy's and St Thomas. He spent 6 months between University of Toronto and McMaster University for a fellowship in minimally invasive surgery. Dr. Scarci's practice is in pure thoracic surgery. He works closely with a large team including other surgeons, specialist nurses, radiologists and physicians and together they aim to provide the best outcome for patients. Dr. Scarci's areas of major interest are resection of locally advanced cancer, malignant mesothelioma, rehabilitation after thoracic surgery and clinical trials. He also has a keen interest in medical education and, after several courses, he is currently doing a Masters in medical education. Dr. Scarci is actively involved with the European Society of Thoracic Surgeons where he leads the chest wall database, pleural malignancies and chest wall working groups. He is also member of the database committee and involved with NICE working groups.
Focused issue outline:
Stage IIIA NSCLC
Heterogeneity of stage IIIA NSCLC: different tumors, different nodal status, different prognosis
Management of stage IIIA NSCLC: role of the surgery
Management of stage IIIA NSCLC: role of the chemotherapy
Management of stage IIIA NSCLC: role of the radiotherapy
Management of stage IIIA NSCLC in elderly patients: should we do different?
Management of stage IIIA NSCLC: different management=different quality of life?
Persistent N2 disease after neoadjuvant treatment...and now? The surgeon view
Persistent N2 disease after neoadjuvant treatment...and now? The oncologist view
Prognostic biomarkers of patients with stage IIIA NSCLC
Stage IIIA NSCLC: a controindication for VATS Lobectomy?
The role of immunotherapy in stage IIIA NSCLC