Editor's note
The 27th annual meeting of the European Society of Thoracic Surgeons (ESTS) was held on June 9–12, 2019 at the Convention Centre Dublin, in Dublin, Ireland. The AME editorial team was with great honor to invite Prof. Walter Klepetko to conduct a brief interview.
Figure 1 Prof. Walter Klepetko.
Expert introduction
Prof. Walter Klepetko (Figure 1) graduated from the Vienna Medical School in 1978. In 1989 he was appointed Director of the school's Lung Transplantation Program and, since 2010, has been Chairman and Professor of the Department of Thoracic Surgery. In 2002 he founded the European Postgraduate School for Thoracic Surgery in Bergamo and served as its director until 2009. He has been awarded honorary memberships in the Czech Transplant Society, the Romanian Societies of Thoracic Surgery and Transplantation, the Hungarian Societies of Surgery and Pulmonology, and the British Society of Cardiothoracic Surgeons. He has served as the president of the European Society of Cardiothoracic Surgery (EACTS), councilor of International Society for Heart and Lung Transplantation (ISHLT), and international councilor of the American Association of Thoracic Surgery (AATS). Prof. Klepetko serves on the editorial boards of the Journal of Thoracic and Cardiovascular Surgery and the Journal of Heart and Lung Transplantation.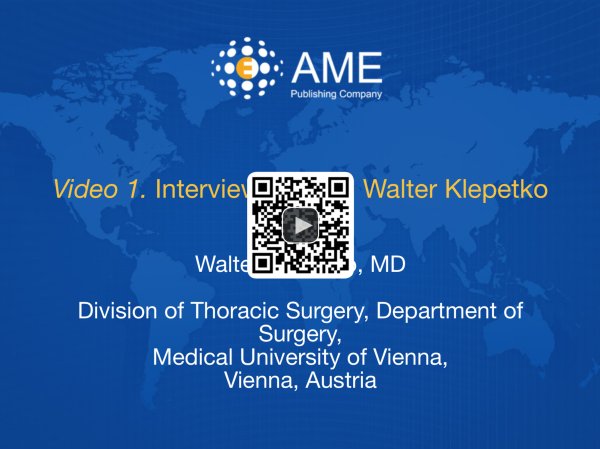 Figure 2 Interview with Dr. Walter Klepetko (1).Available online: http://www.asvide.com/article/view/32897
Interview
CCTS: What are the major opportunities and challenges and research focus in tracheal and airway surgery?
Prof. Klepetko: The major opportunities and challenges right now are that people seem to realize that this is an important topic, it deserves more attention and it deserves higher specialization. So nowadays, we can see the possibilities to overcome many problems, which have not been touchable before in the past, due to the new technologies. One of the technologies is to large the larynx in a reasonable way without the need for long-term T-tube support; another technical possibility is the safe resection and the correct reconstruction, which refers to reduced morbidity and mortality rates. In general, I have to say every surgery has become a focus in our own department, but also the interest of the larger societies. And as a matter of fact, we will have for the first time a combined meeting on the airway surgery in Vienna in March 2020 as it combines Vienna ESTS meeting (Vienna ESTS Laryngotracheal Course Symposium, 5–7 March 2020) and I invite all the Chinese colleagues also to participate in that meeting which will address the critical issues in a very extensive way.
CCTS: Would you please share with us some important progress in lung transplantation and what would be future trend in clinic practice?
Prof. Klepetko: In lung transplantation, there are currently two major progresses to be reported. First, the ex vivo lung perfusion is already established in many departments. And it has helped us to overcome many difficult situations in terms of improving the quality of donor lung, in terms of assessing the quality of donor lungs and in terms of treating donor lungs. So altogether this expands the field for lung donation significantly. The second major advantage is the way how we are able to avoid the primary graft dysfunction (PGT) over days. We are running our department the protocol of routine interpretive use of extracorporeal membrane oxygenation (ECMO) and eventual prolongation according to standardized criteria when it is necessary into the early postoperative period. As a matter of fact, the PGT 3 rate at 72 hours in our department has declined to 1 to 2 percent only, which is in a huge difference to what is reported in literature and many other departments where the range usually is between 10, 20, even up to 30 percent.
CCTS: What are the major opportunities and challenges that the young generation of surgeons is facing with nowadays?
Prof. Klepetko: First of all, the major challenge that the young generation is facing is the difficult choice between higher specialization and broad education. Everyone has to make his individual decision in this regard. No. 2, at least for Europe, one of the challenges is the European working time directive something which is not of course in the interest to Asian and not yet. And No. 3, for the younger colleagues, it will also be the challenge that many institutions have an increased interest in minimally invasive surgery, which is good, but on the other hand, they have lost an interest into extensive major procedures and they will be very hard to teach the young generations how to perform this extensive open procedures in the future.
CCTS: What should the mentors/supervisors do to better prepare the next generation of medical professionals?
Prof. Klepetko: Mentoring the younger colleagues is a challenge and it is a continuous challenge you have to continue your efforts. You have to stay in contact with the young colleagues and to listen to them and to hear what their needs and concerns are. And you have to try to do the very best to provide them the best organizational background that is possible.
CCTS: Why did you choose to be a thoracic surgeon?
Prof. Klepetko: Why I was choosing to become a thoracic surgeon, I have to say this was by chance. There was an open position in our department at that time and I hadn't seen a real protocol procedure at that time but I was pretty sure that this is a very interesting field of surgery and I immediately took this chance and stepped in. And this is where I am now.
CCTS: What would you choose as your career if you were not a surgeon?
Prof. Klepetko: As an alternative to surgery, well, this is a very difficult question, but I think there are some alternatives which are going to the direction of art and maybe also in sports but this is all theoretical and hypothetical.